Every October, people all over the world show their support and raise awareness for everyone impacted by breast cancer. We're educating people about breast cancer risk factors and early detection while stressing the importance of regular screening, starting at age 40 or the age that's appropriate for your breast cancer risk.
Breast Cancer Awareness Month was created in 1985 to promote screening and prevention of the disease, affecting one in eight women in the United States annually and 2.3 million women worldwide. Throughout the annual campaign and yearlong, you are surrounded by people who understand the journey of breast cancer survivors and the ones left behind.
Metastatic Breast Cancer Awareness Day
More than 200,000 people in the United States live with metastatic breast cancer (MBC). The goal of Metastatic Breast Cancer Awareness Day. October 13 is to increase breast cancer awareness and the need for more research about metastatic disease. 
Men's Breast Cancer Awareness Week
Although breast cancer is more prevalent in women, between October 17-24, we recognize that breast cancer affects men, too. About 2,710 American men may be diagnosed with breast cancer this year; about 530 are expected to die. But lack of awareness, and stigma can be barriers to detection and care. Some men, trans men, and non-binary people choose to call their cancer chest cancer.
Breast Cancer Awareness: Statistics
In the U.S. in 2022, it's estimated that 43,780 people — 43,250 women and 530 men — will die from breast cancer

CDC states that about 9% of all new U.S. breast cancer cases are found in women younger than 45; breast cancer risk increases with age

Although Black women are less likely to be diagnosed with breast cancer than white, 41% more likely to die

About 170,000 people in our country live with metastatic breast cancer
Breast Cancer Risk Factors
Did you know that your risk of breast cancer is related to your reproductive life stage and age? You can lower your risk by avoiding known factors such as obesity, alcohol, and smoking. Many things impact our health and well-being in life.
Breast Cancer Screening
Regular breast self-exams, annual doctor exams, and yearly mammograms are essential in breast cancer detection, especially early detection when cancers are more treatable.
Your Role: Do a Self-exam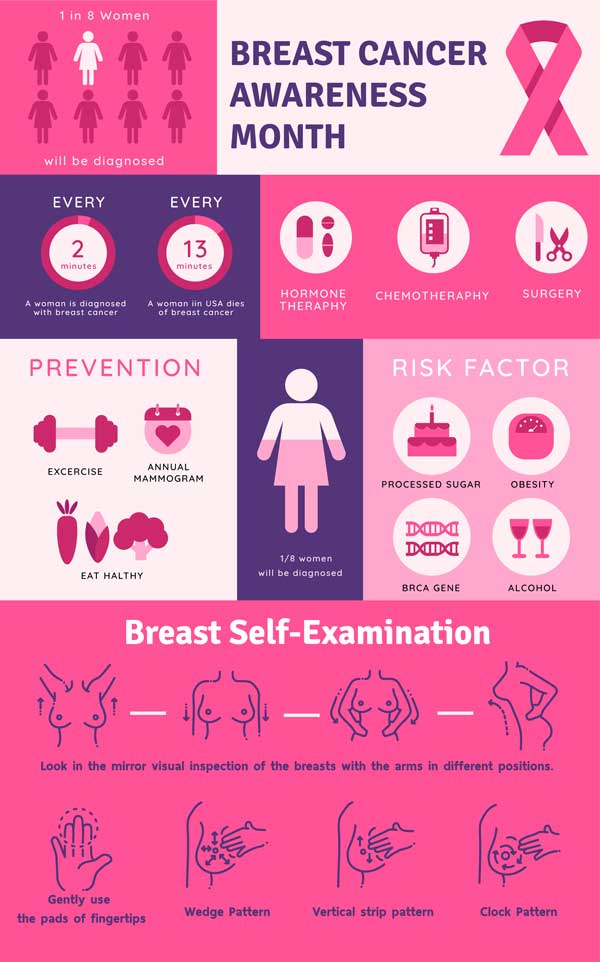 Breastcancer.org. provides this information.
Donate to support free resources and programming for people affected by breast cancer.
CBD 
Cannabinoids are compounds that can interact with a system inside the body known as the endocannabinoid system. Your body has a complex network of receptors on cells that regulates your daily body functions. It includes cannabinoid receptors, which are found mainly on immune and reproductive cells.
THC and CBD can both help ease the side effects of cancer drugs. This means it can help reduce side effects of breast cancer treatment like pain, anxiety, insomnia, nausea, and vomiting. That said, it's important to note that there is no evidence that CBD can treat or cure breast cancer itself.
Medical Marijuana patients should look to heavy indicas for better rest while sativas can help with nausea and energy during the day. So, what should you do? Find a product(s)  you can depend on. We strive to be that brand by going above and beyond for quality assurance and striving to provide accessible prices. Contact us directly and we'll help you on your CBD journey.